Hi
1. Is it possible to modify the extension Telegram, so to be able to transfer chat to another operator and close the chat.
Also, to see if the visitor has closed the chat.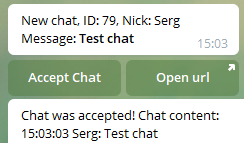 2. The "Show a leave a message form when there are no online operators" checkbox mark,but window widget not popup. Live Helper Chat version 2.91.
3. On a smartphone, the widget window goes beyond the screen. Is it possible to make the widget window adapted to the screen size of the smartphone.
Last edited by serg6006 (2018-04-01 13:31:37)