As the year comes to a close the team at Wurrd is bringing you one final update for 2016. What better way to wrap up the year



For this update (version 1.2.2.32 of the app) we are now exposing additional information about a chat. This includes information such as email, IP address, and other location data. One would have to install version 1.0.4 or greater of the extension to get all of these features on the app. To install or update your extension visit the OP above.
The updated extension (1.0.4) has an important bug fix for the "session timed out" auto logout issue which continues to plague us. It is advised to everyone update to this version.
The "Visitor Detail" screen can be reached by going into a specific chat and tapping "Menu -> Details" (see screenshot below).
Email: In our usage we found that we occasionally wanted to know the visitor's email address and may be copy it for use in other apps. If the visitor provided an email when starting the chat, the email field will be populated and will include an icon to copy the email address to the clipboard. Note that if you want to collect email addresses from your website visitors you should enable this on the LHC admin interface by going to "Settings -> Live help configuration -> Start chat form settings -> Online form settings". Check the two "This field is visible..." checkboxes as you see fit.
Location: If geo detection is properly enabled, location data will flow to the app. This is configured by going to "Settings -> Live help configuration -> GEO detection configuration". By default, MaxMind is enabled and this provides only country-level detection. With this setting, the app will only show the country name and one will not have the option of plotting the location on a map. To provide more accurate geo detection with MaxMind, you would have to install the city-based database on your server. This is outside the scope of this discussion but I can entertain questions on this later. We also tested with the "freegeoip.net" option and were able to get city level detection without any additional setup. With more detailed location information an icon will be displayed and you can tap it to see the visitor's location on a map.
Another change is that the "Chat history" screen now shows the country flag of a chat if that information is available (see screenshot below).
Visitor Detail Screen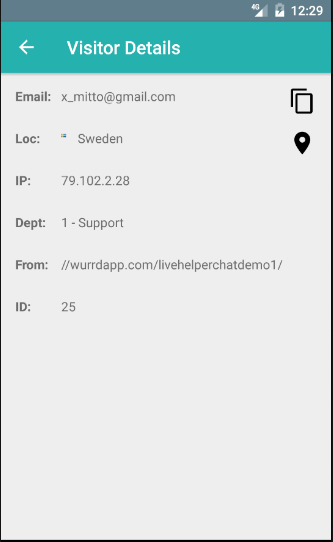 Chat History Screen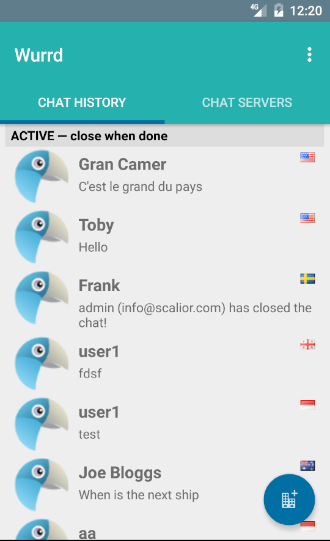 Last edited by scalior (2016-12-30 08:43:32)
---
Lead developer Wurrd for LiveHelperChat, a mobile client for operators.
Serve your customers on the go! Download now from http://wurrdapp.com/get-it-now/
Forum discussion: https://forum.livehelperchat.com/viewtopic.php?id=2132